Where are the boundaries of your flesh and who determines them? How do we effect our surroundings? What is revealed from our actions? In "Reveal," Angela Pujolas stretches, separates, and ducks the hot pink extensions of her frame imagining and opening alternative and simultaneous worlds of vivid color.
REVEAL is the product of what I've come to understand my research to be—creating alternate and simultaneous realities as a form of resistance and hope through the re-purposing of artifacts. In this film, I was really able to do that through the use of key-framing, tutorials, and using sound created for Iteration X: Exending the Body for this project as well.
I think using color pops, contrasting color, and splitting the screen to reveal alternate world was super effective. The reveal of pink, a color not associated with nature, as a road, a river, the elastic cords, evokes ideas of climate change, alternate worlds, and questions if we are really seeing what we think we see. The work begins blurry to play with our vision, quickly coming into focus with the title and then fading back out. Each quick cut jumps to another black and white world, reveals another part of the grounding shot (the winding road and ELS of Angela), a black and white road, a pink lake.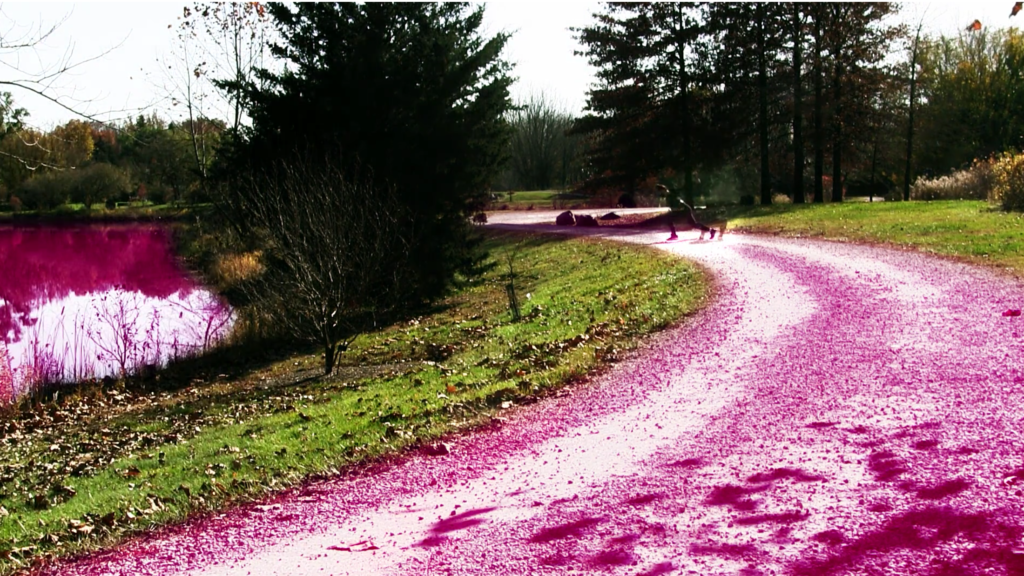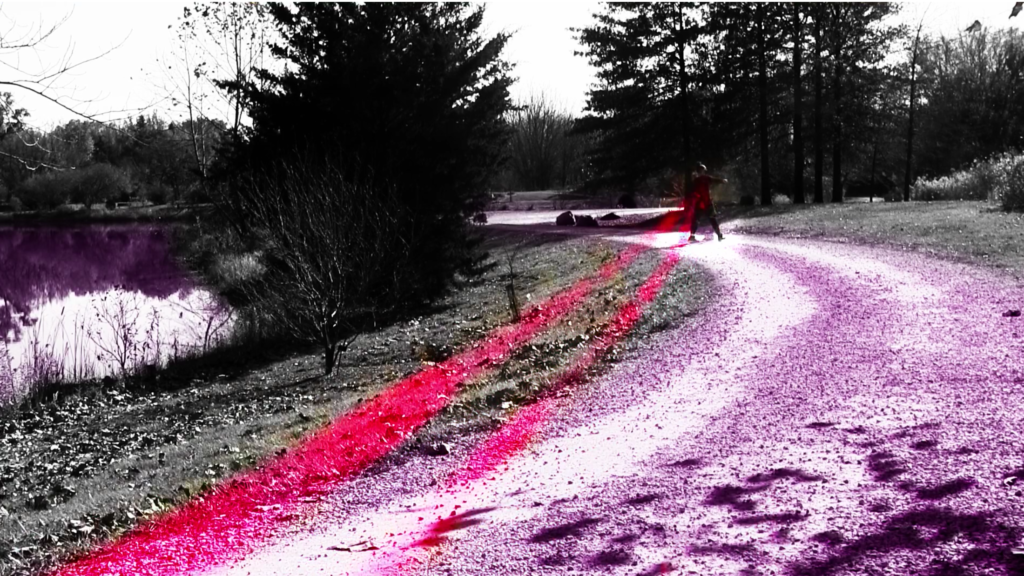 I created the sounds as part of my Arboretum piece, but re-purposed them for this film in the same location with similar props. The matrix-y sound is actually a recording from a paint brush in the VR experience "Tilt Brush" where each brush makes a sound. I stretched the sound, and this beautiful futuristic waver was created that I love. The whispers, questioning the world and body represented, "Is your body captive?" come in as Anglea looks over her shoulder. This moment makes me think Angela has heard someone whisper, she also does this a few other times but the first one is feels establishing. "Who holds it there?" as she stretches a pink elastic and holds it. These first two connections with the text are satisfying because they are the tutorial for the connection between the words and visuals.
This film really allowed me to investigate my research in so many ways. I think being confident in my repurposing methods such as using one part of the film as a piece of paint for another part of the film speaks to the re-use of artifacts I'm embracing. It's empowering to know that my interest in creating alternate worlds as a sense of resistance of our current climate and hope for a different future speaks to people.