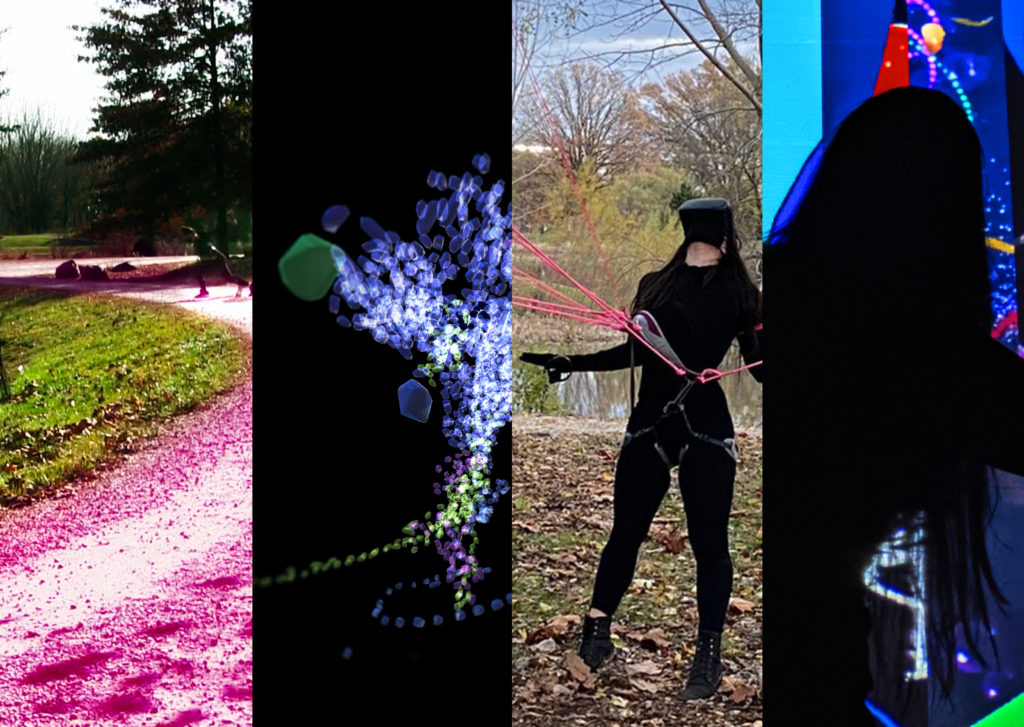 My MFA Thesis in Dance will culminate with a showing at Urban Arts Space's Hybrid Arts Lab bringing into conversation four interchangeable artworks of alternative and simultaneous realities as forms of resistance and hope titled, ITERATION X. The work bridges aesthetics ranging from the bright colors of the Virtual Reality painting program Tilt Brush, thick hot pink elastic cords, and movement themes investigating location, place, and "the body as place." Note: Bold/Underlined events as live/synchronous events.

"Extending the Body," a live performance at OSU's Arboretum North in October 2020, exposes a body wearing a VR headset as prosthesis and signifier as cyborg or other and was described by audience members as a "cyborg ninja" in the trees.

REVEAL, a dance film, highlights dancer Angela Pujolas as manipulator of her environment as she uses thick pink elastic to stretch and peal back layers of her reality, exposing alternate and simultaneous worlds of vivid color.

"a canvasUnBound," will be performed as the only live component at The Drake Film Festival on March 16, 2021. This interactive performance uses painted imagery from "Extending the Body" as artifacts that react to the movement of the dancer.
"moonshot: solos for your home" is an Augmented Reality App that will allow the user to watch short motion-captured solos activating the small spaces of their home. A soft launch of this App and it's development will be presented at OSU's Dance's Grad Day (virtually) on March 15, 2021.
My areas of research include multidisciplinary methodologies including cyborg feminism rooted in feminist, gender, and transgender studies, digital and 3D cinema, performative drawing, and the phenomenology of the body including embodiment and affect in Virtual and Augmented Realities.